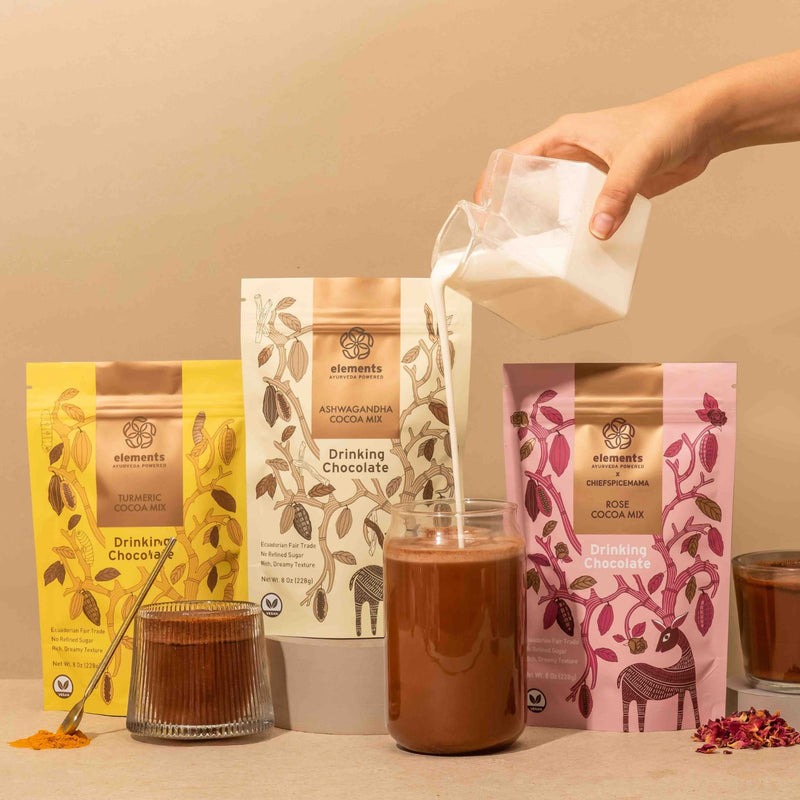 Promote clean, functional chocolates & snacks for everyone.
Elements is an Ayurveda powered line of chocolates and snacks that taste good and do good - for the body, mind and the world. 
Our functional chocolates are handmade with just cacao and honey. They are infused with Ayurveda superfoods and pure essential oils, which lends to its unique flavor profile and melt-in-the-mouth texture.
Our products are beautiful inside and out. We hand craft them from purest organic ingredients are sourced using direct trade (better than fair-trade) and sustainable practices. Our ingredients are also certified safe from heavy metals. There are no refined sugar, no dairy, no soy, no lecithin, no gluten, preservatives or any weird ingredients. We take no shortcuts!
Moreover, 25% of our profits are given back towards education of underprivileged children.
We make:
Chocolate Bars
Hot Chocolate Mixes
Plant Based Ayurveda Protein Powders
& Snack Bars
15% COMMISSION
Our clean and functional chocolates are a blend of ethically
sourced cacao and herbs powered by Ayurveda - an ancient science of healing.
Our products are free from dairy, refined sugar, soy, emulsifiers and anything artificial. These are handmade in the US and sweetened with locally sourced raw honey.
No refined sugars or weird sweeteners.
No natural flavors
No Soy, Emulsifiers, Gluten or anything junk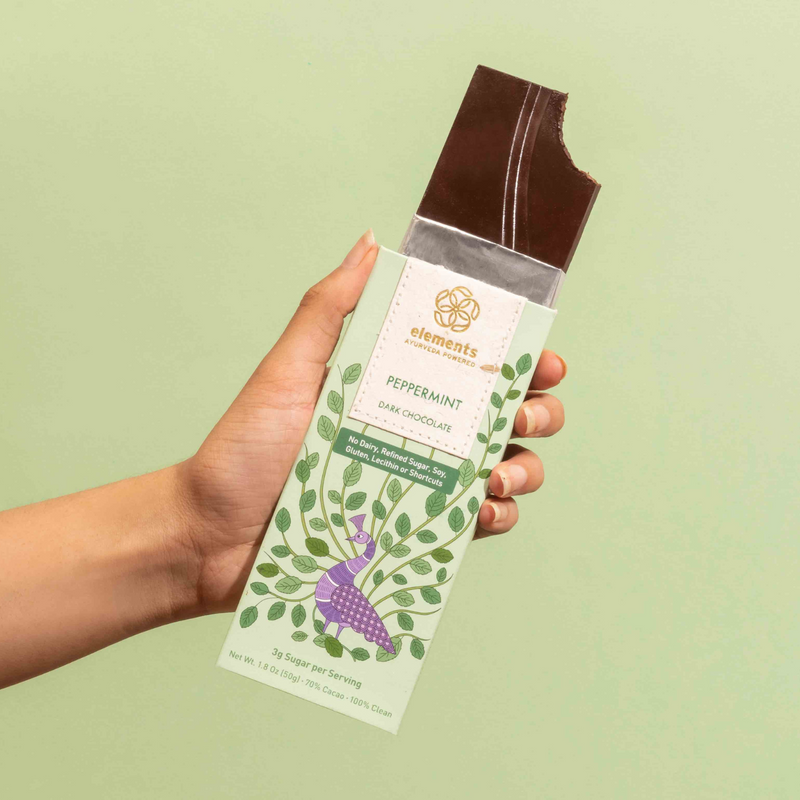 Hey there!
We're a husband and wife duo with an unbridled passion for clean, nourishing food that also happens to taste yummy. Our mission? To make holistic functional nutrition accessible to everyone through products that we all love and understand.
Plenty of health trends have come and gone, but Ayurveda has stood the test of time for over 5000 years. We were inspired by its wisdom and knew we had to bring it to the world in a way that would truly resonate. And that's when it hit us – why not wrap it in a bar of chocolate?
We blended Ayurvedic principles with mouthwatering flavors, crafting chocolate bars, hot chocolate mixes, plant based protein and snack bars. There is a lot more to come and we are so excited by how our unique offerings are loved by our loyal community.
We are ever so grateful for all the love and support!
With warm regards,
Alak & Kushal,
Founders of Elements
How the Ambassador program works
Get Registered
Give us a few details about yourself via the "Become Elements Ambassador" button and we'll get started processing your information.
Get Confirmed
You'll receive an email notification within 5 days of contacting us if your application is approved.
Share
Customers click on your affiliate
link and browse our website. When they make a purchase, you get commission. You will receive commission payouts on customers you drive to purchase. It's that simple.
Get Paid
Receive access to a range of creative assets, special exclusive promotions and a team to help you earn commission through your site, blog, or media account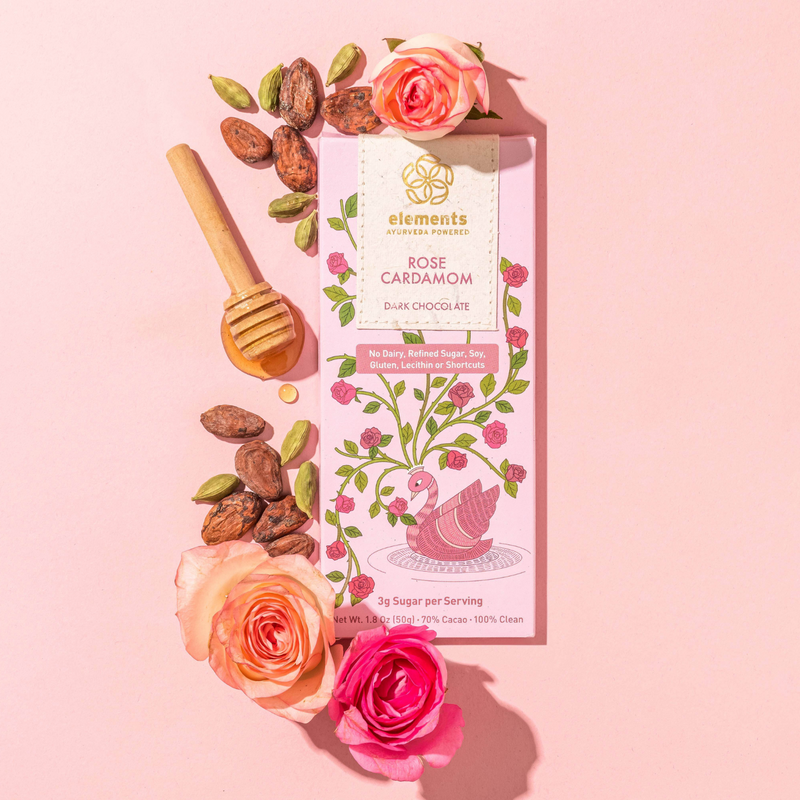 Let's Work together!
We invite you on our journey in unleashing transformative and healing powers of Ayurveda and invite the world to honor their cravings!
Partnership Opportunities
Affiliate Marketing

Gifting

Discount Codes

Additional Opportunities.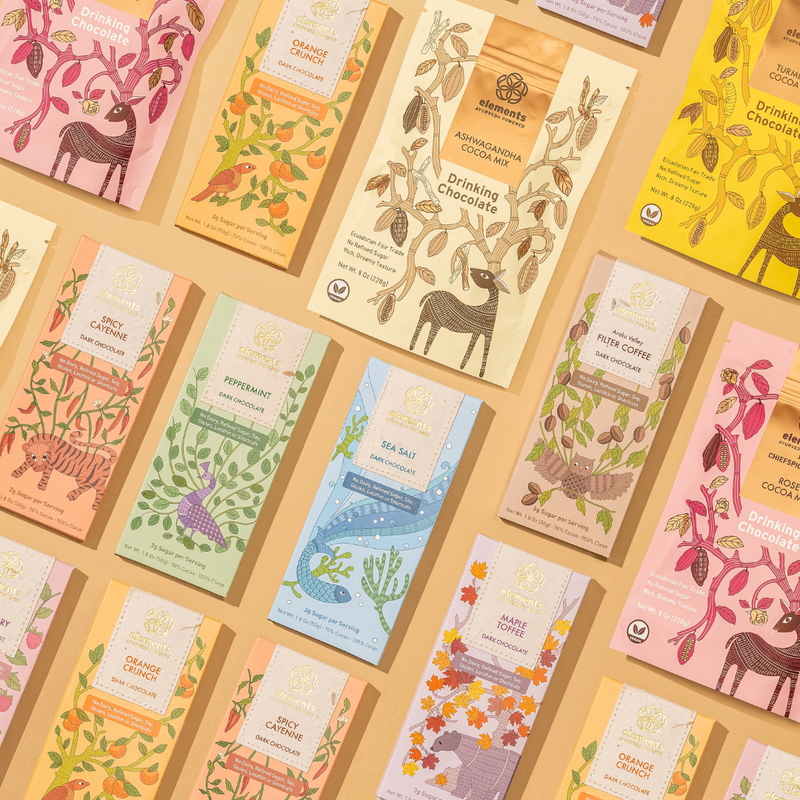 We are excited to partner with you. If you have any question, please reach out to Hannah on affiliate@elementstruffles.com
We'd love to walk you through the onboarding process that typically takes less than 10 mins!